As I told you. It's no longer a secret. I like hiking. I love hiking. From here to nowhere, anytime, anywhere. But if I particularly like The Road to Santiago it's not only to eat a lot of miles. It's much more than that. Some people choose the Road to Santiago by religious conviction. Others by challenge. Each personn has is own reason. For me it's a real pilgrimage, but not a religious one. It's a real personal pilgrimage. And you will understand why!
So if you hesitate to join the crazy one who spend their day hiking, and illing their feet. Or if you don't understand why your college has been eating dust and miles this summer instead of staying at the swimming pool with a mojito.
If you clearly don't share the enthusiam of people who dream to hike. All day.
Not only to take their train or to go shopping. No. No no no no. Just to walk all day long with their house on their backs.
Come here.
I will tell you what brought me on the road to Compostela.
FIRST THE ROAD OF COMPOSTELA ITSELF …
THIS IS NOT ONLY ONE ROAD BUT MANY PATHS. There is one for everyone's taste !
I like when my choices are endless. Except that most of the time I feel embarrassed by too much choice. And the server loose his patience when I change ten times my final order after too much hesitation. But regarding roads, it's just perfect to have so many choice. The road to Compostela is very simple to organise and to build according to your needs. It starts from many places.
It could start from your own home ! And it's quite easy to stop it whenever you want and to return to your previous stopping point to start again. You can't dream a more flexible hiking xay, it's clearly ideal !
NO MATTER YOUR HIKE LEVEL YOU WILL FIND ALL YOU WANT IN THE ROAD TO SANTIAGO
The distances can be adapted relatively easily. You can choose and build your own stage, regarding your preferences and your level: miles starving enjoy your 30km per day, hedonistic you will prefer to walk "only" 15 to 20km … normally everyone will find some benefit there!
The Road to Santiago is also accessible because it's not a high mountain path which bring you in forgotten countries for several days. The return to civilization is guaranteed each evening. So the possibility of restoring and housing too. With a lot of accommodations, pilgrims accomodation or other housing!
Ok. Sometimes civilization is only materialized with three houses and a fountain but anyway you will not die in the desert during several days without meeting a living soul.
Accessible also thanks to the marking. Which is very well done. So you can walk with no pression, follow the markings and that's all ! It's really convenient believe me!
AND THE LANDSCAPES … LET'S TALK ABOUT THE BEAUTY OF THE ROAD TO SANTIAGO!!
Because it's nice to speak about logistic and markings but clearly… if you have to spend your days walking it'es better if the path worse it no ? The Camino de Compostela is the opportunity to (re)discover many landscapes. To visit little place you would have never been. Ever. To rediscover your geography a little too. Of course some part are less beautiful. But in general the Road of Compostela will delight your pupils!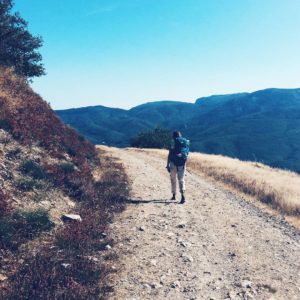 … BUT ESPECIALLY WHAT YOU WILL LIVE AND EXPERIENCE ON IT
To be honest. The Camino de Compostela is much more for me than a "classic" hike. Yes there are the landscapes, the sporting challenge etc. Yes it's a perfect path to delight the addict hiker I am. But if you choose this hike for this at the beginning, if you clearly fall in love for it for it, it is because it's more than that. Because walking, discovering, meeting, suffering and getting back to basics bring so much more than a few blisters and a stupid hiking tan.
CREATE LINKS
MEETING NEW PEOPLE. BRIEF MEETINGS. OR NOT
Some people find love there. Not me of course! Love, friendship, a brief, momentary moment, a sincere sharing between hikers. Each meeting is part of the journey and makes it beautiful and unique. Meetings ? With whom ? I could write a dedicated article on this subject. Meetings with the other hikers of course, all in the same boat. You build relathionship very quickly, you just have to talk about your feet and the ice is broken. We all have our own reasons, whether spiritual or personal and we all find a little in the other. A hello, a help, a tomato, a discussion.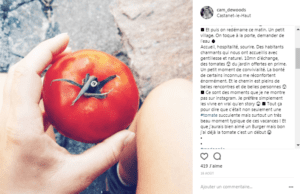 But meetings and sharing are also between the hosts who welcome us often with kindness in their house. And the people who crosses your path, in a village to ask for water, on the side of the road to ask for directions. There is often a lot of goodwill around the pilgrims of Compostela, even more when you arrive in Spain where everyon tell you "good camino" on the road!
AND WHEN YOU ARE ON THE ROAD TO SANTIAGO… YOU MEET AND YOU FORGET YOUR URBAN EGOISM
The city egoism, where everyone stay with his own problems and don't share with people on his side. Have you ever tried talking to your subway neighbor about your problems? No, of course. He doesn't care. Don't try toooo foolish! While deep down you are in the same boat. You are human beings, driven by the need to exchange. On the Camino de Compostela you can share. Talk about everything and nothing. Exchange and enjoy yourself by learning from each other too.
PSSS … BEFORE SPEAKING AND MEETING THE ENTIRE HUMAN RACE.
The Road to Santiago will also allow you to strengthen links with those who share your days. Yes, simply. What better way to strengthen a relationship, friendship, kinship to embark on this kind of beautiful adventure!
AND ENRICH YOUR LIVE, EVERY DAY …
Curiously. It is often when you're is stripped of … almost everything that you are able to go back to the basics. And that you are dedicated to the beautiful things of life!
THE ROAD TO SANTIAGO IS FOR MANU A REAL "FOOT THERAPY"
No no no. We are not talking about fetishism. Don't worry. No it's much more down to earth than that.
While your feet are busy and your body is clearly ocupied you can let your thoughts frolic with the wind. There's no hurry, the constraints of everyday life are far away, meetings, appointments, races, projects… So you can go back to basics and let it speak. Find your thoughts, the real ones, the ones that matter. Refocus.
You will see, once in the wild you can really breath and you take a step back. And if it's not your feet that wear you there, you will certainly meet beautiful people who will also help you to think and enjoy!
EVERY DAY IS A VICTORY.
Sometims, you find yourself lost in your daily life and if you no longer enjoy the small pleasures and successes. The Road to Santiago is very simple. You go from point A to point B. Thanks to your. Only you. It's your will, your body, your determination that leads you there. So no matter how many kilometers you have hike, no matter how long it will take you to arrive every night safely is already a big success!
There is much more to be said about the blessings of the Camino de Compostela. Which will bring you so much if one day you dare to go there. These are unforgettable moments. Each day is a small universe in itself, enriching you with new discoveries, encounters, learning. Of course, one must know how to "get rid" of everyday comfort and simply find the essential happiness. But the memories that emerges and the magic of the path are really worth it!