WELCOME TO MY SPORTY, YUMMY BLOG, MANAGED WITH A DOSE OF HUMOR AND HUMILITY !
MIX SWEET AND SWEAT AND YOU'LL GET A GOOD DOSE OF FUN!
Don't get stuck on my 5'3 (1,59m) or my flashy leggings. I am a real energy ball, always down for everything, especially E-VE-RY-THING which is why I go from food-baby to dopaminaholic. A race in no man's land and 5am start? Hell yea! A weekend in the mountains following moose ? awesome ! But hey…there must be a food feast at the end. And chocolate!
Avid runner for the last 10 yeas, you've probably already heard me grumble at the starting line. My appetite at food stop has impressed you. Certainly more than my finish time. Well, it's a good thing because I don't plan on a TOP3 but rather on energy, good vibes and motivation on a daily basis.
I am an advocate of sport eclecticism, and vow a real passion for nature. My favorite element since I was born in the middle of nowhere in Corrèze (yes, you may have to look that up! Hint: it is in France) feeding myself with chlorophyll (and chocolate). Trail running and hiking are 2 of my favorites but I have no problem getting into my fitgirl outfit for a set of squats, burpees, and stretching.
To sum-me-up: I am a sport-addict, with a highly emotional sensitivity for every new challenge! I hope to share this with you if you don't wanna move, or at least have a good laugh in your couch.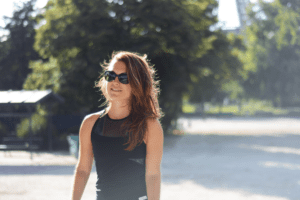 A LITTLE DIGITAL TOUCH OF SPORT AND HEALTH, A SPORT BLOG AS SIMPLE AS IT LOOKS
Going into the digital world was far more stressful then my first marathon. A sport blog, ok, but why? There are so many out there. Why would YOU, hiding behind your screen, want to read MY RRs (Race Reports)? Maybe for my equipment advise and reviews? Or simply because all of the sassiness that will come out of my mouth – or my fingers – at every new paragraph. I may not be the best, the fastest, the prettiest…you got it right, the keyboard demon hold me back for a while, telling not to jump into this new 3.0 adventure, very time consuming, not knowing what would be coming.
Article after article, I started to enjoy. Like, for real. To write. To relive and share. All my adventures, mistakes and advice. Mon alternative level of humor, my inspiring portaits…and my passion for hiking.
And you give it back well. All your comments make me wanna do more every minute, and share as much as possible with you. I keep going, make changes and improvements to make it a real dedicated space for sport, health and before all, FUN! All this wouldn't be what it is today without you, and me!
In few words: a blog, for you and for me (who said and the entire human race?). To share adventures, advice, and silly jokes!
ON THE WAY TO A SUSTAINABLE BALANCE STATE, MIXED WITH SPORT AND HEALTH !
Sport addict, yes. But not only. After lods of readings, events and new faces, I realized little by little that being active is a good thing. But it is not enough by itself, you gotta listen to yourself, to your body. Create an environment that gives room for wellness…learn how to let things go, and get some me-time. All these subjects are new to me and I know I have a lot to learn, and I will, and it is this process I will also share with you, so we can get there together.
So don't be afraid and join me on this quest of sustainable well-being. Sustainable because it is more than lighting up two candles and going to a pilates or yoga class on Tuesday. Sustainable because it is also a virtuous circle, taking care of what is or who is surrounding you. To enjoy these moments in connection with nature and breath some fresh air. To protect and take action in the conservation of our planet, our ecosystem.
A quick summary : Wellness goes with physical activity, yes. But not only. A little less sport craziness and a little more "relax mode" on a daily basis….keeping in mind the respect of my environment that I love so much. Easy to say, not so easy to follow…and you'll find here my own way of sticking to this sustainable balance over time!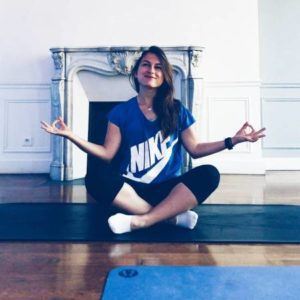 To contact me : Camdewoods@gmail.com