HOW TO PROPERLY CLEAN YOUR HIKING AND TRAIL RUNNING SHOES
There are some activities we easily postpone to another day. Well, at least I do. I don't know you, you may have a passion for cleaning, that take great pride and pleasure deep cleaning its shoes after a muddy run. The kind of person that is kinda excited at the idea of using its little brush to make em' shine again.
WELL, I DON'T. I HATE CLEANING. LIKE, REALLY BAD.
Except that sometimes, you really have to go for it. That is basically what I told myself when I recently looked at my hiking boots. I carelessly threw them across my apartment even though they took great care of my little feet for about 60 miles.
You know, that corner where you store a bunch of crap and labelled "things I will do later". Problem is this "corner" is taking more and more space every week and has become the "shit I really have to start cleaning this s**t space" in the apartment. That was actually before the 2 weeks run free that eventually become the "square of shame". Come on Cam, you really gotta take care of this now!
Alright alright alright, I'm doing it. I decided to end this period of lack of respect towards my shoes. Don't be afraid, follow me, it'll be fun… to clean your hiking and trail running shoes !

1- Why would you clean your hiking boots and trail running shoes?

Well, if I show you mine..it'll be obvious…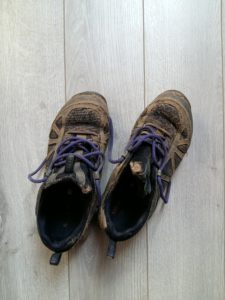 At the moment, it is impossible for me to imagine my feet getting in there…ewww. There's no way out of this, I HAVE to clean them.
Believe me, you do not need to get to this point before getting to the "shoes wash". Extremes aren't good anyway, right? No need to be cleaning them with a toothbrush – even though I do happen to know some people who do – but still, it is recommended to take care of your shoes…as they will take care of your feet.
WHY? aren't they made to get dirty, to be dirty? isn't that the reason of being hiking/trail running shoes?
Yes, they were built for rocks, mud, and dirt. You're right! What about your SKINS compression shorts then? arent' they made to be covered by your sweat? Yes they are. And still, they get a wash after every use? right? ok, no, I don't wanna know AH AH.
Your shoes need to be taken care of, even if they are not super duper dirty.
This, for several reasons. The mud can alter the breathability. Dirt, mud or even pieces of glass or any kind of debris can damage, by abrasion, the outside or inside! And remember, everything that can damage your shoe, will eventually damage your feet. On top of spending $120 on your new shoes you may end up spending $100 more on pedicure and orthopedist.
Do not follow my example and let them rot on your balcony. Do not hide them in a closet until next season but give them a little respect and clean them. Even if it is annoying, it clearly is a better option than assess the damage later on.
2- PROPER CLEAN FOR YOUR HIKING BOOTS AND/OR TRAIL RUNNING SHOES
As Cindirella, you will have to take care of your pretty shoes. You never know, your Prince Charming may be hiding around the corner – of a tree – and this could be the end of your single track (ah ah ah!).
The best of the best is to
look at the manufacturer care instructions.
I know, I know, I just gave you a huge tip! You're welcome.
Some fabrics, like leather, may have specific care instructions
and sometimes nothing is displayed. The website is empty and the community manager has not answered any of your 15 messages on Facebook!
If your shoes aren't made of lizard skin or leather, you can probably follow these advise.
First of all, forget your washing machine! Please. For your shoes, for your washing machine, don't. You'll have to get your hands wet and dirty
CLEANING THE OUTSIDE OF YOUR HIKING AND TRAIL SHOES
First step…smash em against each other. That'll get most of if. Or against the wall. Or your boyfriend if he's been annoying – or not! – lastly. Feel free to use a big brush to help in the process. That's something all of you out there can do, I know it. I believe in you so come on, just do it!
Then, the "shoe wash". Grab a soft brush, or a sponge for example. OK you don't necessarily need the last Oral-B electric toothbrush.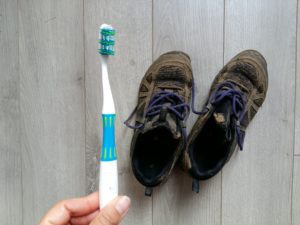 I personally did not have anything else but a classic brush, some warm water and a soap…and there it is…rub it, rub it, til it shines. Get this dirt and mud, everywhere. Don't be scared, it won't hurt…this s*** hides in every little hole or spot.
I have never tried all these products they sell you at the store…I am a firm believer this ain't good for the environment and my pretty hands and stick with water, it works just fine.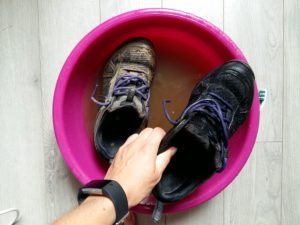 CLEANING THE INSIDE OF YOUR HIKING AND TRAIL SHOES
You clearly do not need to do this as often as the outside, but still gotta take care of it as well. Just to avoid that stinky smell ya know. Can be useful – see the Prince Charming reference above. And this action will help maintain a good breathability over time. Think about it first though, the drying time can be long, do not plan on wearing them in the next 24 hours.
It's as easy as ABC. Or XYZ! A little water, a soft brush and go. Just gotta go for it, smoothly to avoid scratching the fabric that can be fragile.
I'm gonna give you a $140 tip here – yes, the price of your shoes pretty much. Put some newspapers inside your shoes. Yes, newspapers. Grab a double page, crumple it and stuff if in. It is the best humidity and odor absorber E-V-E-R! You can also do it after a particularly wet race or training. This technique has been approved by millions…or at least myself and a few friends crazy enough to believe it!
3- PROPER DRY FOR YOUR HIKING BOOTS OR TRAIL RUNNING SHOES

Your shoes are all wet. A little or totally soaked…few options here as to…why:
– you just did a shoes wash as explained above (hey, kudos to you young fella)
– you really have sweaty feet – hey that's totally fine. We all know the saying, dno't worry, be sweaty!
– your inner kid side pushed you jumping around every single puddle out there. goof!
Anyway, it is really important to dry them well to avoid this time when someone asks "damn, who's got these smelly shoes?"…nope, not me.
AVOID putting them on a heater or close to a wild fire! Simply avoid putting them close to any source of heat, it may damage your shoes..and see above for the best tip one can get at this point!
Well…ok but how do i do it then?

Super easy. We can all do it. 3 steps:
– remove the sole inside.
– remove the laces and open up your shoe…feel that fresh air coming in?? that's what I'm talkin' about
– let them dry! if really wet, newspaper will fasten the process (assuming you change it every so often)
4. HOW TO MAINTAIN YOUR SHOES PROPERLY WITH WATERPROOFING PRODUCTS

Now that they're shining, and dry, ready for new adventures…what about some extra treatment? Protective cream for leather, or wateproof lotion – YES, we're still talking about hiking boots or trail running shoes, this ain't some fashion blog yo – can both work depending on the pair of shoes you have !
And for most shoes, waterproofing products will keep them….well wateproof (smarty pants!)
If the water does not slide on top of your shoe but get inside, you may be up to some wet feet and diminution of breathability. Remember: waterproof a day, keeps the rain away! You won't make your shoe totally water repellant, but at least you won't get soaked at the first rain drop.
I'm no expert in these products but as far as I'm concerned I would check the care instructions and make sure I'm using the appropriate spray. Usually, you gotta keep your distance – about 8 inches / 20 cms – and spray it over your shoes. Let dry about 10-12 hours and keep your windows open – why do these things always smell like hell, seriously. This can be done twice a year…WOW, what a waste of time right? ah ah I heard you! Come on, it's not that big of a deal and it'll make your feet happy !

5. STORE YOUR HIKING BOOTS OR TRAIL RUNNING SHOES IN THE GOOD SPOT

Hey right, I really need to read this… Well, yes, you do! Of course, they gotta be dry and clean – they are if you've followed the previous steps. The ideal spot is similar to the one for your cereals – not necessarily the same though – a dry place, with some air coming through. Avoid direct heat as you remember.
The newspaper, that thing again, can help you maintain a decent shape if you don't use them everyday. And it will keep the humidity away.
In conclusion, whether it is hiking shoes or trail running shoes, there's a cost. And you gotta make your investment worth. So take care of them if you don't want to change your pair of shoes every full moon.
The ideal is also to have a detailed look at the sole, and the seams. Routine check.
Remember, if you don't do it for yourself,
do it for your feet
. I can assure you they will thank you. The opposite is actually VERY true. They'll be happy to remind you you didn't. And since they are your
first and only point of contact to the ground…cherish the, by taking care of your shoes !

Alright, now that they're all clean, let's plan our next adventure!!!