First step is to make sure you know what we are talking about: hiking. You are aware of it, right? You better be, otherwise shoot me an email and I will happily share with you my love for hiking. It recently became my favorite subject EVER. You only gotta be able to make the distinction between hiking, and…hiking. It is fairly simple, no need to smash your head against the wall.
But before getting started,
you must know the gears and level of implication
needed depending on your own program. Obviously. Same goes for road running, you won't train the same way for the NYC Marathon and the 5K organized by your high school Maths teacher.
Guess what? Much like wannabe marathoners, wannabe hikers will hit the wall as well. But what did you expect? That you'd be able to hike through the Alps seven days long without any prep? awww sweety. Even if I do not consider myself as an expert, I can give you some advices. I've been doing some, here and there, you know…so let me share my experience with you if you don't mind.
Let's see what is important to plan your hike for a weekend long or full holidays !!
PLAN YOUR HIKE | FIXED HIKING OR WANDERING??
First of, the main difference remains in the type of hiking you are thinking about? Leaving from point A, to point B, from B to C, C to D…you get it. OR From point A to…point A, staying in the same little cosy spot in the middle of the mountains.
To put this into perspective and as I like images...will you carry your house on your back for a week or drop your duffel in your room and walk around with your daily equipment in your bagpack.
See where this is going? OF COURSE depending on the type of housing, your equipment will be totally different. And your bag. Especially its weight!
Strategic decisions as to which shoes…maybe a low upper for a day long hike and a high upper for a few days wander to lower the risk of twisted ankles.
My Advice?
If all this is completely new for you and you are planning a hiking oriented holiday, I would recommend a fixed vacay. Which, if you followed me until here, means you will drop your bag in your cottage and go for a day-long hike. The second type of hiking has its side side of discoveries and amazement…but also come with its complications, logistics issues…so before going for the big gig, get accustomed to this new lifestyle – yes you heard me well – build some experience – remember, you'll be sleeping in snakes' and bears habitat…this ain't a joke kid!
PLAN YOUR HIKE | COUNTRY SIDE HIKE OR MOUNTAIN HIKE ?
Each path comes with its share of wonders and surprises. Each terrain is different and you must be looking at the one you will be using, as well as the elevation change. Anticipation is key here. Prepping your legs for a flat trail won't be the same as for a hike reaching a summit. You may even need sticks. I hear you laugh…go ahead…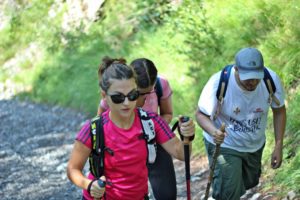 Believe me, preparation is key when you go into a new environment that you don't know and control. Mother Earth will always have the last word…GET READY!
PLAN YOUR HIKE | HIKING ALONE OR IN GROUP?
Being alone is fine. Some basic safety rules must be checked before leaving though. I would say a little more cautious than a group hike. However, the group must be aware of everyone's level and capacities in order to plan routes accordingly. Especially with kids – trust me, I know what I am talking about! These little things will make you an organization maniac..!
PLAN YOUR HIKE | SUMMER, FALL, WINTER OR SPRING HIKE?
There's no season for hiking! Of course, the weather forecast is an important factor to consider. And for safety reasons, you must check the forecast to avoid sudden changes especially in hostile environment. By hostile I mean, a place where you wouldn't be able to reach civilization quickly, potentially difficult to hide / protect yourself… As obvious as it sounds, every year some accidents happen because of extreme heat, lack of water. Generally speaking, you gotta be prepared. Especially if you are leaving for few days and go wild camping…!
Alright alright,
I think you got my point and understand that hiking
– not the "hey I hiked to the Hollywood sign" – is quite demanding and requires some kind or organization in order to enjoy the beauty of the landscape. And do not worry, we all made a mistake, forgot something,
experience will also be a great teacher over time.