After introducing you to the ideal essential oils for a good sleep or my anti-stress selection or the essential oils which will boost your immune defences, it was time to tackle my favourite subject : essential oils which any good athlete should have in their bathroom!
SPRAINS, LIGAMENT INJURY, WHICH ESSENTIAL OILS SHOULD BE APPLIED?
What is the common point between a sprain and a ligament injury? Apart from that little grin of despair when you realize you have a problem…
A sprain is a trauma to the ligaments caused by excessive use of a joint. It is a stretch or tear of the ligament, very resistant fibrous tissue uniting the elements (cartilage, bones) of a joint…
A sprain can be benign, due to a stretching or tearing of the muscle or tendon (tissue that connects muscle to bone)
It is referred to as muscle strain when the muscle fibres are damaged due to over-stretching or tearing. A strain can also involve damage to the tendons, which are part of muscles. They result of too much extension of a muscle subjected to excessive strain.
STRAIN, SPRAIN OR LIGAMENT STRAIN: YOU ABSOLUTELY NEED THESE 2 ESSENTIAL OILS:
You can use them pure, they are not dermo-caustic (causing skin irritation) in local application, with 3 to 4 drops of essential oil 3 to 4 times a day until healing. You can also mix a few drops in clay and apply as a poultice.
Or play little chemists and compose a synergy made up of:
Helichrysum italicum essential oil
Katrafay essential oil
Field mint essential oil
Lemon eucalyptus essential oil
Likewise, you can use them in this synergy for local application, rubbing 3 to 4 drops of the mixture 3 to 4 times a day until healing. You can also mix a few drops in clay and apply as a poultice.
Precautions for use: Perform a skin test before application – Do not apply pure to a large area – Not suitable for pregnant or breastfeeding women, children under 6 years old, people with epilepsy or with neurological disorders.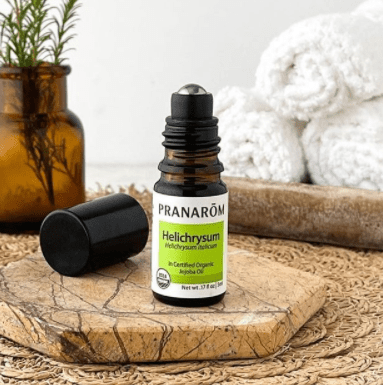 ESSENTIAL OILS TO TREAT TENDINITIS AND EPICONDYLITIS (TENNIS ELBOW, GOLF ELBOW)
A tendinitis as its name suggests is the inflammation of a tendon (sort of cord connecting a muscle to a bone). Tendons are made of collagen fibres. Tendinitis can occur on any tendon, but obviously mainly on those that we overexert.
Elbow epicondylitis can occur in any activity where the hand must constantly grip an object while the elbow is flexed. These movements can over-stress the extensor tendons in the elbow, leading to inflammation and pain.
In both cases, there is therefore inflammation. We will therefore focus primarily on anti-inflammatory essential oils to relieve tendonitis or epicondylitis.
The best essential oils:
Lemon eucalyptus essential oil, diluted to 50%
Essential oil of wintergreen which has anti-inflammatory and analgesic properties
Be careful to dilute these essential oils in a vegetable oil, ideally Arnica or Millerpertuis vegetable oil. For this, pour 4 drops of the selected essential oil in 3 to 4 drops of vegetable oil. And apply 3-4 times a day until it gets better.
You can also compose a synergy using:
Helichrysum italicum essential oil
Lemon eucalyptus essential oil
Katrafay essential oil
Field mint essential oil
Apply 3 to 4 times a day until it gets better.
CRAMPS, MUSCLE CONTRACTURE, LUMBAGO AND TORTICOLLIS
Cramps are involuntary, sustained muscle contractions, transient and more or less painful, usually benign.
Contracture is the consequence of abnormal or exaggerated muscle activity. It doesn't happen during the effort but an hour or two after or the next morning. A contracture is often the result of a persistent cramp
Torticollis is an involuntary muscular contraction of the neck muscles. Torticollis results in severe pain in the neck as well as hindered movements. The pain can spread to the shoulder, arm, or back.
Therefore, for all these pains, it is necessary above all to allow the muscles to relax and soothe them thanks to the virtues of essential oils.
The selected essential oils, which you can be used individually, are:
Rosemary and Camphor essential oil
Lavendin essential oil
Exotic basil essential oil
Sweet fennel essential oil
Be careful to dilute these essential oils in a vegetable oil, by pouring 3 to 4 drops of the chosen essential oil in 3 to 4 drops of vegetable oil. Massage 3 to 4 times a day until complete relief.
Or you can use a synergy made of:
Rosemary and Camphor essential oil
Essential oil of wintergreen
Exotic basil essential oil
Lavendin essential oil
Arnica vegetable oil
Possible to massage 3 to 4 times a day until complete relief.
MUSCLE STRAIN, MUSCLE TEAR, MUSCLE STRAIN
A muscle tear, also called "strain", is the rupture of the muscle fibres that forms the muscle. People who have suffered such trauma report a sharp pain that happens suddenly and report hearing a loud clicking sound. Sometimes the pain is such that it is impossible to put your foot on the ground and lean on it.
The essential oil to favour:
The Helichrysum italicum essential oil, well known for its anti-haematoma and anti-inflammatory properties. It can be applied pure, as seen previously.
If you don't have any on hand, or if you find the price is a bit too steep, the Lemon Eucalyptus essential oil has also analgesic, anti-inflammatory and antispasmodic properties that are very helpful. This one is to be applied diluted, as seen above.
THE AROMALGIC RANGE OF PRANARÔM
You are feeling confused with all these stories of synergy and you do not want to transform your bathroom into a little chemist's workshop? Don't panic, you'll find ready-made oil blends for friction and massage at Pranarôm!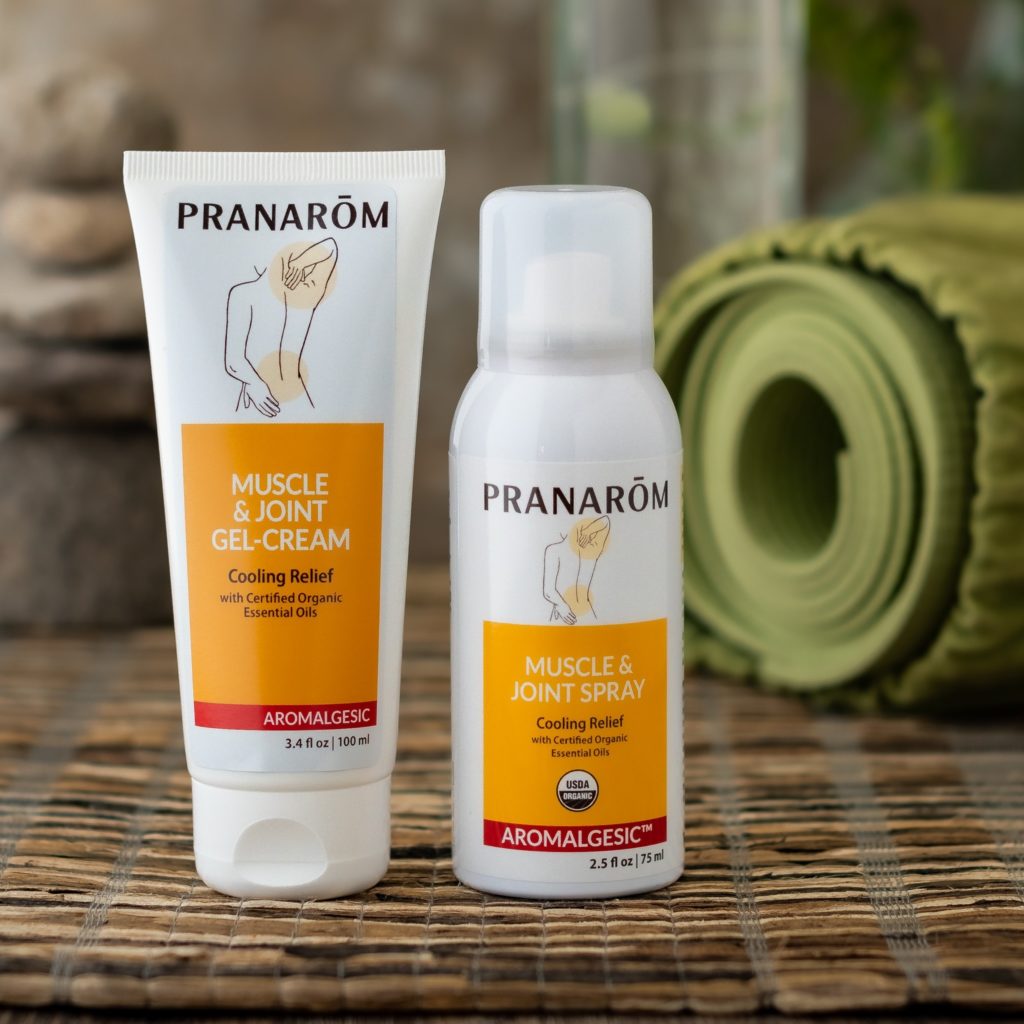 My favourite:
ROLLER – TIRED JOINTS
I am a good fan of this roller, which I used a lot during a quite tough time with a lot of problems, in particular some nice sprains.
" Aromalgic Roller Tired Joints is a non-greasy massage gel to be applied in cases of stiffness, aching, numb muscles and for joint flexibility and muscle pain. "
The roller is made of a synergy of essential oils of wintergreen, lemon eucalyptus, thyme with savory leaves and katrafay and vegetable oils of Sunflower and Calophylla. You benefit from the properties of all these essential oils by easily applying the product.
• To be repeated 2 to 3 times a day as needed.
• Suitable for pregnant women from the 6th month of pregnancy.
MASSAGE OIL – BACK – THIGHS – CALFS
A must have! While rollerblading is more intended for local application, massage oil allows you to massage yourself easily, taking advantage of an ideal synergy for preparation or recovery.
It is formulated with essential oils of wintergreen, lemon eucalyptus, ginger, camphor rosemary, borneol thyme and Arnica extract for a comforting massage.
Do not use during pregnancy, breastfeeding or in people with a history of seizures
CONCENTRATED BODY SPRAY
My bazooka! And yes… I even found a little name for it! I use it as soon as I feel a little pain, especially in the knee (hello tensor of fascia lata) or back (hello stress). Love it, but the smell is quite strong, and the formula very concentrated so be extra careful when applying it!
"AROMALGIC SPRAY CONCENTRATE BIO * provides immediate and lasting relief in the event of tension, stiffness and discomfort. To be sprayed locally on sensitive areas of joints and muscles (such as knees, back, shoulders, neck, etc), its formula is highly concentrated in essential oils such as copaiba, fragrant wintergreen and field mint. Penetrates quickly. Non-greasy and non-sticky. "
Spray environmentally friendly.
Composition: 100% organic essential oils *: Field mint, Copaiba, Asp lavender, Fragrant wintergreen, Savory leaf thyme, Star anise, Lemon eucalyptus
Spray on the affected areas then massage until the product penetrates.
From 12 years old on: one local application per day. Adults: up to 3 applications per day.
Here you go! I hope you will quickly complete your medicine cabinet and especially that you will adopt the correct reflexes in the future 😀
FIND HERE ALL MY ARTICLES ON ESSENTIAL OILS:
Discover my training in essential oils by reading my article here, and the interview with Cécile Adant, trainer Pranarôm, there.
Find here the essential oils helping you to sleep well!
My top essential oils for stress ! 
Essential oils to boost your immune system
Do not hesitate to ask me all your questions, this subject fascinates me !