Damned sure that, as regards the rain, … I know the subject pretty well! I think that on the pilgrim route to Santiago de Compostela, I have been walking more kilometers under the rain than some people in a lifetime! Between us: I really could have done without this bad weather. But hey, when the heavens have decided to go wild and you do not have 6 months to reach Santiago de Compostela, you just keep moving,  telling yourself endlessly, that you are not in sugar.
So ok, YOU are waterproof, but your backpack? … not sure! If spending your day under heavy downpours is unpleasant enough, imagine arriving in the evening and discovering with despair that your personal effects are totally soaked. Just forget the reward of putting on a dry and warm Polar. And good luck to dry everything. Not to mention the damage that rain can cause on electronic objects or food.
To the question "Should I take a protection for my backpack, even if I leave in summer?" I say yes. "Even if I go in the South of France and the heat wave is predicted for the next 3 months? ". "Yes yes yes YES. When hiking it is wiser to anticipate, it saves you a lot of hassle – remember that you do not have plenty of shops around or providential shelters when you are in the middle of nowhere.
Protecting your backpack from the rain while hiking, my advice
Now that the matter is settled: you need to protect your backpack from the rain… let's see how.
Inside or outside protection for my backpack?
Globally, there are two methods. Well, in the same time, there is not thousand means to protect it! Protect the content itself and therefore the inside of your backpack or protect the outside. Personally, I would recommend combining both ways. Why? Because protecting only the outside may be enough, of course, but imagine that the protection (rain cover or poncho) deteriorates for some reason and so no longer protects your backpack: it will definitely get wet inside. On the other hand, even if the inside is sealed, you will find it very unpleasant to have the backpack itself completely soaked. Knowing that protections can let you down and that water can seep through the smallest pinhole, it is wiser to remain on the safe side: protect both inside and outside.
Protect the inside of your backpack
When hiking, everyone has its own solution to protect their belongings. It is, by the way, quite funny to compare all the tricks of old backpackers in the evening. On my journey to Compostela, I personally used freezer bags, but others did very well with trash bags.
Easy solution: Freezer bags
I chose freezer bags for two reasons:
– All my stuff, divided in several small bags, was well organized. Very convenient when you empty your bag in the evening: t-shirt bag, underwear bag, toilet stuff, electronic bag…
– The protection was higher by favoring small, resistant bags, that are less likely to puncture. And if one does, the others remain dry.
If you like this option, it's very simple: just go to your local supermarket, buy some freezer bags and start organizing your stuff. I have been testing it during 39 days of hiking and fully validate this choice: all my bags remained waterproof and my stuff dry.
Easy solution 2: TRASH bags
Ah the trash bags! A convenient solution for emergencies. You can choose trash bags if you want, but this solution, if the cheapest, is not the most convenient. Nor the most reliable. The bags are not transparent (and it's handy to see the contents to avoid opening a few bags before finding the right one), often too big, and less handy and less resistant than the freezer bags.
Solutions specially designed for hiking: waterproof bags
Some specialized brands offer ultralight waterproof bags designed to protect your stuff. These are often very light, 100% waterproof, and provide the best protection for a very affordable price. For those who want to make sure that not a single drop of rain can leak into their backpack, it is the best solution because they are more resistant while remaining lightweight. You can get them in different sizes and colors. I advise again to take several of these bags, it makes it easier to organize your package. Like one for the sleeping bag, another one for electronic devices, clothes …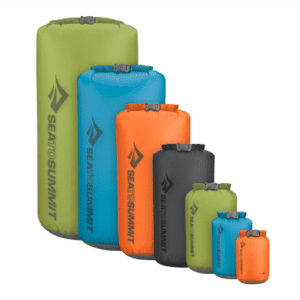 Waterproof removable inner lining for backpack
The principle is the same as for bags, this time using a waterproof removable inner lining (a large bag, about the same size as the backpack). You put all your things in it and place it in your backpack to provide extra protection against the rain.
Personally, this is not the solution I would recommend. This is the best way to end up with a complete mess in a very short time. I prefer using several waterproof bags or freezer bags to divide and organize my belongings.
The bag is like an inner lining, you just fill it in, seal it and then close the backpack.
The dedicated accessories:
Today, there are plenty of specific accessories to protect our most valuable accessories… including smartphones.
outside protection for your backpack
As I said in the beginning, you can also protect your backpack against the rain from the outside. This is also the most commonly used protection, be it for a one-day hike or an itinerant trekking. Again, there are several solutions, in fact exactly two: the rain cover protecting only your backpack or the rain cape (or poncho) protecting you as well.
The rain cover for backpack 
It's simple, handy and most of the time the rain cover is supplied with your backpack. Easy to use: just put it over your backpack and that's it! I personally used it on my pilgrim route to Santiago de Compostela, and given the weather, I put it on every morning to avoid having to do it at top speed under pouring rain. You can slip them on and off very quickly and they can often be put in side pockets of your backpack intended for this purpose. Simple!
The rain cover has a few disadvantages … Difficult to be sure if it is still waterproof -which can end up in a very unpleasant surprise (hence the interest of ensuring an inside protection too, just in case); and sometimes the water accumulates at the bottom of the cover, leading to a pocket of water. This happened to me several times while hiking, and not only the bottom of my bag was wet, but it also created a small stream flooding ruthlessly my shorts.
The rain cape or poncho
It's very personal but I have a lot of trouble wearing a rain cape on a hike. I find it not only very unpleasant to wear but also not very handy (not to speak of your look!). This kind of huge plastic tent that slaps your legs, sticks to you like a wet sheet, makes you sweat… But despite these inconveniences, I regretted not to have one on Compostela , because it would have been more covering than my waterproof jacket.
Like the rain cover, the cape is easy to put on plus you don't have to remove your backpack to put it on. It protects both you and your backpack. But it is not 100% reliable, since the water always manages to seep in if the rain is heavy or if it is very windy … Hence, here again, the interest to put a rain cover on your backpack to ensure optimal outside protection and to protect your belongings inside.
In any case, to withstand bad weather I would advise not to take only a rain cape. it can be stifling and in the case of a small, harmless rain, it may be better to simply put on a light waterproof jacket or even enjoy the drizzle… Except that if the rain cape is your sole protection, then you do not have the choice!
That's it! Now you're ready to brave the rain … even if obviously I do not wish it to you.