I have to confess… I'm a big fan of brunch! Therefore, for 3 years (less a few weeks of lockdown) I have been delighted to discover all the good addresses for brunches in Annecy. I recommend you a few addresses. Please do not hesitate to share others with me!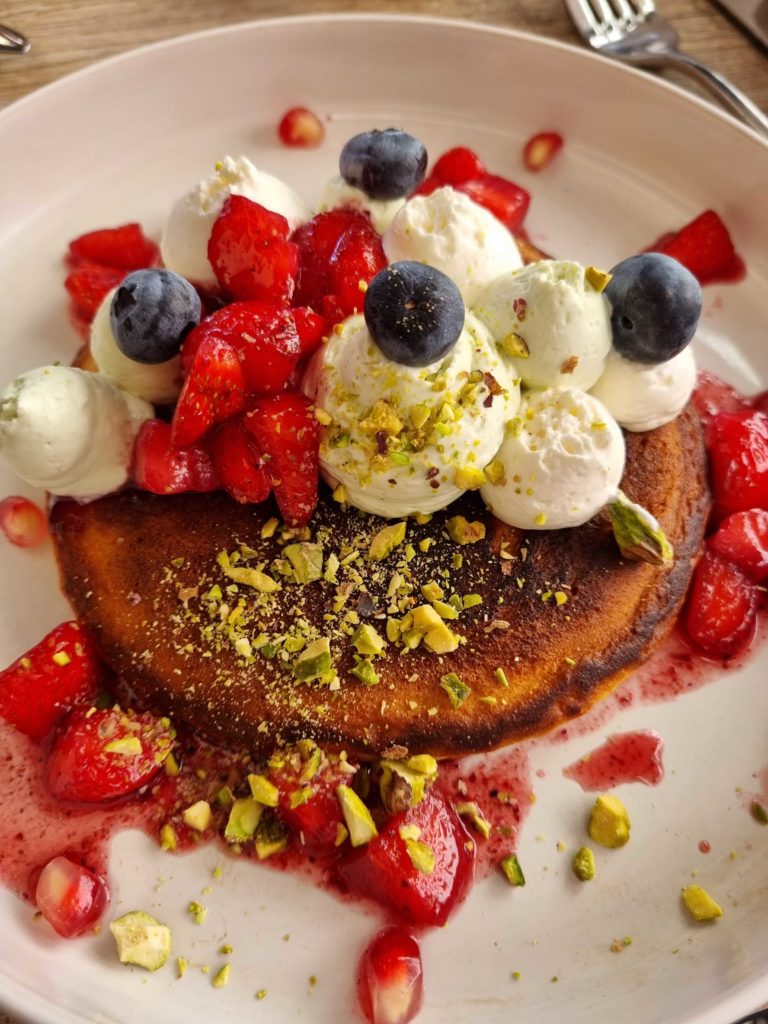 HAVEN – BRUNCH AT 25 €
My favorite brunch in Annecy! Haven is a restaurant located in the pedestrian center of Annecy. The setting is pleasant and the atmosphere very relaxing. The menu is tasty and colorful, the products are healthy and the quantities generous.
Haven – Egg Benedict cheddar bacon
Green veggie bowl, veggie toast, smoothie bowl and granola are all very good, but it would be a shame to miss out on the brunch which is as generous as it is beautiful! The formulas change with the seasons (the beetroot pancake is no longer available for example) but the concept of brunch remains the same:
Hot drink (Tea, Espresso, Americano, Cappuccino, Hot chocolate) and Fresh fruit juice
Fresh bread, homemade brioche to die for *
Salted plate: Egg Benedict with cheddar bacon, Veggie toast and Salted smoothie bowl
Sweet plate (your choice) : Summer Pancake, fresh strawberries and raspberries, vanilla cream, pistachios, pomegranate or cottage cheese, granola, fresh fruits
There is a very pleasant terrace (in the shade) overlooking the pedestrian center. And the service is super cool and always with the smile !
It is possible to book directly on the Haven website .
5 Rue Filaterie , 74000, Annecy France
Open every day from 9 a.m. To 6 p.m. Except Sunday: 9 a.m. To 3 p.m.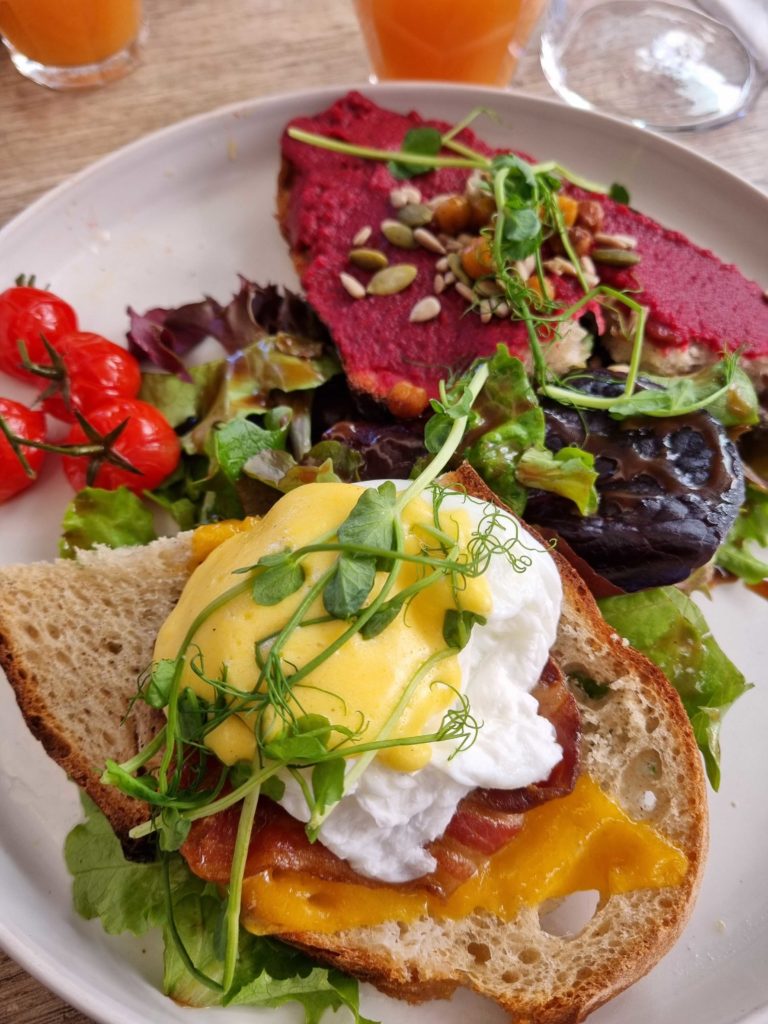 LA BICYCLETTE ROSE – BRUNCH AT 20 €
La Bicyclette Rose (pink bicycle) is certainly one of the most famous brunches in Annecy. This also explains why you will probably have to queue on weekends since it is not possible to book. The setting is traditional with a cosy decoration. The dishes are very very gourmet with a wide range of savory dishes (variation of eggs, smoked salmon, slices of bacon, etc.) Which vary depending on the day and quite a few sweet desserts and other delicacies (chocolate chip cookie, brookie, granola, French toast etc…). The products are homemade from quality products and highlighting local knowhow. The chocolate spread (self-service!) With brunch is just crazy
The brunch formula at 20 € is mega copious and it is better not to eat too much the day before! It varies of course and currently consists of :
Hot drink and fresh orange juice
Fresh bread, local jam, spread and maple syrup
Salted plate: Organic boiled egg and grilled bacon, cheese
Sweet plate: Organic homemade yogurt, mix of granola and pancake
If you are not feeling sated when leaving, I do not understand!
Lunchtime formulas during the week (pies, soups and gratin) on top as well
29 Rue Sommeiller, 74000, Annecy France
Open every day from 7:30 a.m. To 6:00 p.m. Except Sunday: 8:00 a.m. To 3:00 p.m.
KIA ORA – BRUNCH AT 25 €
"KIA ORA" means "take care of yourself" in Maori and one thing is sure: it feels good at Clem's and Mary's. The little cocoon of Kia Ora allows you to escape and also to taste flavors that are always very exotic. The dishes are designed for all with options and all the pastries are vegan. Vegan but succulent for those who have prejudices about the taste.
The brunch formula is available on Saturdays from 11 a.m. To 1 p.m. And varies according to the creativity of the managers. It consists of :
Hot drink and fresh juice
Fresh homemade bread 
Salty plate : 3 salty assortments 
Sweet plate : 3 sweet assortments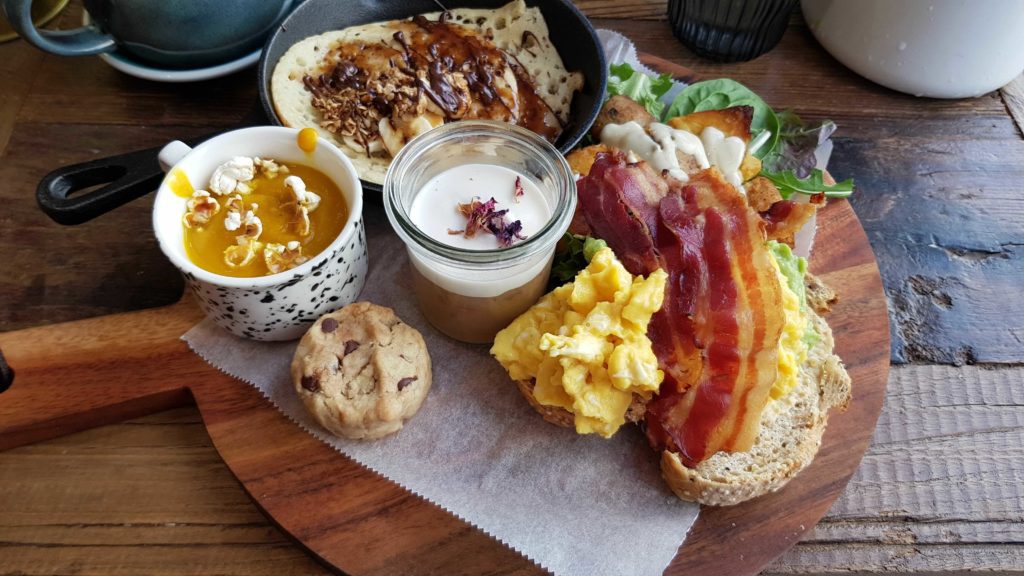 LE BAR ROUX D'HEURE – BRUNCH AT 23 €
The Bar Roux d'Heure is a very atypical restaurant-tea room, in the heart of the old town. It is also located right in front of the Haven. The decor is super cozy, in reclaimed and mottled fashion, it just feels good. The products offered are organic, local and the dishes are homemade. The terrace is also located under the arcades.
I have already tasted a piece of cake at Bar Roux d'Heure but I do not (yet) know the brunch which is nevertheless very famous!
Brunches are served EVERY DAY but only by reservation! (Price 23 €) A unique sweet and savory formula, served on the plate.
Hot drink and fresh orange juice
Savory plate: scrambled eggs, quinoa salad, savory cake, falafels
Sweet plate: smoothie bowl, pancakes
Here you go ! There are still many brunches to discover in Annecy, but this selection should already delight gourmets!