SKINS gives you no more excuse to NOT get out when it is getting cold !
Why?
Let's see the Product test & review of DNAmic top & bottom + Jedeye run Puffer gilet
I owned a few items from SKINS. An old pair of tights as well as a A400 compression power shorts. And that leads me to my first 2 positive insights for the day: the last long, and they are resistant. I have worn them so many times I can't even count, and in every type of conditions and races. Needless to say, I am quite happy with them!
Imagine the stars I had in my eyes when I received the DNAmic top and bottom, along with the Jedeye Puffer!!! Like a kid in a candy store. Really!
First impression opening it: it does look kinda fancy. The touch of the packaging is nice and remind you bought some kick ass running gear.
The product is quite impressive as it is lightweight
and thick at the same time while also looking very comfortable.
Before I move on and tell you more about the product itself and the test review, let me give you a little more information about SKINS, and the brand DNA. You can find all that you need on their website here so I will share with you, what is relevant to me – and hopefully, to you.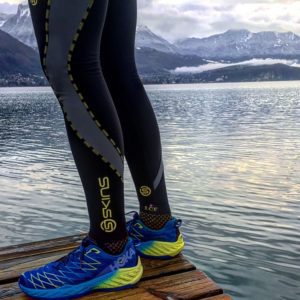 And by that, I mean, the details, or technology – call it what you'd like – that make SKINS stand out:
What are we talking about here…
Dynamic Gradient Compression 
SKINS most advanced compression technology increases muscle oxygenation, stabilizes active muscles and reduces blood lactate build up, to enhance performance and speed up recovery time (if you say so…I do admit I sometimes put them on as "recovery gear" under my pants).
Muscle Focus 
Biomechanically positioned panels and seams support and stabilize the muscles to reduce fatigue and risk of injury (ok, sure. Fact: never injured myself wearing them!).
Moisture Management 
Moisture wicking fabric draws sweat away from the body to the surface of the garment where it evaporates to keep you dry (that one, for sure!! It does work REALLY well).
50+ UV Protection 
SKINS proven 50+ UV protection (I believe you. Truth is, never got sunburnt with SKINS on).
Thermal 
SKINS thermal fabric is a blend of Polyamind and Elastane, which combines high pulling and abrasion resistance with excellent breath-ability and a soft feel against your skin. The brushed interior helps to release heat back to your body to give you a thermal advantage in cooler temperatures without compromising on fit, support or moisture management (whatever they say! Read below and you'll get my view on this).
Warp Knit 
SKINS compression fabric is made from a warp knitted mix of yarns that give you a carefully calculated level of stretch for controlled compression and durability (I do feel like my SKINS gear does not age…unlike me).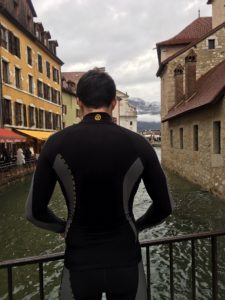 Back to the test, itself
OK, back at it… I don't know what type of runner you are. But if you are like me, and run "rain or shine", you may hear this a lot these days: "nah, it's too cold for running".
Well, I've got the solution for you kid! The DNAmic Thermal range from SKINS will keep you warm all winter long! Topped with the activewear Jedeye Puffer gilet and you're good to go no matter what. So, before you get one to yourself, let me give you a little more insight on these awesome products made by SKINS.
First of all, the look!
I love black. Don't get me wrong. I also love colors. And I truly love when both can be mixed together in a nicely way. Well, as I know taste is personal, I won't tell you the DNAmic does look great…but I love the way it looks! I wasn't sure how to describe it…then I thought about "urban chic". Yep! You agree?  The tights and top match perfectly together. And the jacket? Oh mamma! I have a hard time not wearing it every day as it is quite discreet and super qualitative. Top notch. If you happen to have a closer look, you will notice that SKINS is very much looking into details and how to make real performance gear. Put it on, raise your arms…oh hello there smart inserts of mesh under your arms for increased breathability, and supposedly better movement.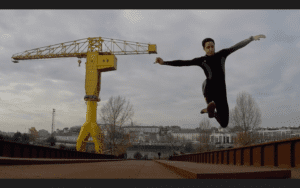 Now the fabric itself.
It seems to adapt pretty to your body. I am 5'10 and 148lbs and went for the medium (M) size as per their recommendations. Looking at the given, I was at the very bottom for pretty much everything, except height and chest. However, it does fit perfectly! Not too tight, not too loose, not too long, not too short, just perfect. And this is how I feel every time I put my DNAmic gear on! In addition, I love that once you put it on, it does not move, at all, no matter how long and hard you go. To help stay in place SKINS made a smart move by adding a silicon gripper to both top and bottom. How many times have I had the skin of my back uncovered in the winter? This time is OVER!!  Final precision, the tights sit pretty low – which I reaaally like – just below my waste.
The compression and thermal…does it really work?
YES. You are right, this is what SKINS is selling after all, compression. I myself use the word support more than compression but that is up to you. I haven't measured precisely the effect of SKINS garment but I can tell you that I have ran enough to assure that it does reduce the muscle fatigue.
What about the thermal now. Well…I gotta give it to SKINS on this one. I have tried to find the limit of their DNAmic thermal and did not reach it. It actually works extremely well! I am truly impressed. I went out several times at night with temperatures below 5° and up to 99% humidity and did not feel a thing or on cold runs in the mountains with temperatures below 0. Although not windproof, it will stop the wind pretty well and have these uncomfortable chills that can go through your body. I may not be cold easily, but believe me, wearing the DNAmic Thermal top and bottom with the Jedeye Puffer will keep you warm in pretty much every running conditions. And the best part of this? It evacuates the heat perfectly to keep you dry all along. This is due to the perfect fit of the gear on your body. Only one detail I wanna point out here. I believe there could be some adjustments made in between the legs (yes, that part of your male anatomy). I felt like the A400 tights were perfect…where this seems to be a little different for the DNAmic range, not as fitted.
Before I wrap this up, a little more information on the Jedeye Puffer Jacket. There isn't much to say except good things. Honestly, putting it on and everything falls into place. It does look good, I've said it. It is super light and stays in place once you put it on. You know, that feeling of the "jumping jacket" you may have sometimes, well, that's gone. SKINS has done a great job making a warm, light, fitted gilet. On top of this, different fabrics are applied to the front, the back, the sides so that you stay warm and dry in every condition. I have had the chance to only test it with light rain, and again, repellent effect worked pretty well all along although not a rainproof gear.
All in all…
To wrap this up, I am overall very satisfied with the DNAmic range from SKINS and their Jedeye Puffer jacket. Not only will you run dry and warm…but also, in style!! SKINS has managed and mastered the winter gear for us to enjoy every season of the year.
++  : perfect fit, thermal and compression power, the look
– : like I had to find something, so there it is: a little pocket with a zipper for my house key would not be too much