Sport… a hobby that takes me lot of time, and also a lot of space in my cupboards ! I consume many outfits week after week. A very active sweaty rythm ! And because I spend a lot of time in sportswear I must confess that I LOOOVE the athletic look. Sometimes, I feel more disguised in dress with heels than in legging & sneakers. "Sometimes"…Okay …in fact. always !
I like also different sorts of colors, shapes and brands. And because I have to be often dressed in activewear, I would like to be a sexy active woman ! Not just be a sweaty girl but keep also a touch of feminity.
I bet you can see what's coming… I had a crush for Noliju. Why ? Because the clothes are well cut but also because they are very feminine. They have the kind of outfit you are not ashamed to take the subway with, and which you can show off during your races. Outfits where you feel like a woman, womaaaan… But also because the founder is french.
It's good to promote our french touch wich is class and sexy.
It's a real pleasure to present you Norah and her Noliju adventure !
So Norah, can you tell us more about your background ?
Hello Camille ! I worked indeed for more than 15 years as marketing manager for international clothing brands like Petit Bateau, Naf Naf and Carnet de Vol, in Paris and in Nice since 10 years. After all these years and two little boys later, I wanted to start the adventure of entrepeneurship by creating Noliju!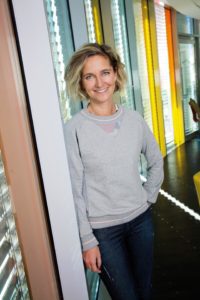 You're a very sportive woman right ? Is that why you decided to create Noliju ?
I love to run since many years. When I was little, I ran around the Versaille castle. Today, I live in Nice, so I like to run along the seaside or in the country hills. I mostly run for pleasure, and now from time to time I like to compete with friends on little races, on 10kms and semi marathons but also on marathons like on the famous Nice-Cannes.
So yes, it's running that gave me Noliju's idea .
As my youngest son was supporting me, he asked me once why I had a strange look when I was running. And he didn' t understand why I didn't have the same look as in my everyday life. After this moment, I thought about why we had to almost disguise ourselves when were doing sport ? With my experience in the Fashion world, I thought about how to create a lifestyle running brand. A brand which could accompany us during our running sessions but also in our everyday life to make our life easier when we run from work, to sport or to children's school !
I love your inspiration for this beautiful name : No Li J U : No Limits, Just U. Can you tell us more ?
No Limits Just U means that there are not limits : no limit in sport, in performance and no limit in Fashion ! The only limit is yourself ! So let us be beautiful and active everyday !
Does it fit to you ?
Yes, of course. I belong to these actives moms, who I call the everyday triathletes, the one who juggle constantly between professional, personal and family life and their favorite sport … so yes, there are no limits, we can achieve to do everything if we really want it.
How can you describe Noliju ? What make the diffrence?
Noliju clothes are technical and stylish. I take special care in the selection of our fabrics that I want ultra comfortable and breathable and on top of that I use the details and finishes of the world of fashion. This specific mix makes the whole difference.
An adventure like Noliju is a crazy bet ! To dare to enter a market already occupied by famous actors such as Nike or Adidas, and arrive with a refreshing brand. "No Limits" is a slogan that fits you at 200%. What triggered you to take this bet? Just U ?
In fact, I am convinced that there is a space for qualitative and beautiful activewear that can accompany us all along our crazy life. It's this belief that pushed me to take this bet.
But your biggest bet is probably to produce all your collection, not far. I love the made in Europe, so I'm happy. Can you tell us more about that ?
I also wanted to have an ethical approach by creating Noliju and so my ambition was to create a collection with fabrics exclusively from the European Union and clothes made only in Europe.
It's means a premium positioning. And I think that mentalities are evolving and active women are more sensitive to this ethical approach.
"Noliju : running clothes thought by a woman for women"
The woman Noliju, so the Nolijette, how you see her ?
I see her beautiful, active and blossomed !
And what do you want to offer her with your clothes ?
I wish to provide her well-being and style to become a beautiful and happy woman !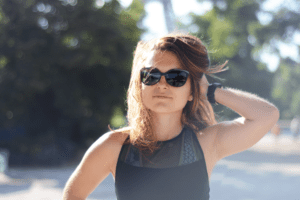 What are the sports you can play with your outfits ? They are ideal technical fabrics for multi sport right ?
Yes, Noliju's outfit allow to practice my favorite sport, running, but they are also adapted for many other sports, like fitness, yoga or tennis.
A little preview, scoop on the next collection ? What do you have in store for us ?
I prepare mostly new trendy colors and also a new print, very chic….
 Convinced? Enjoy a 10% reduction with the code CAMDEWOODS10 !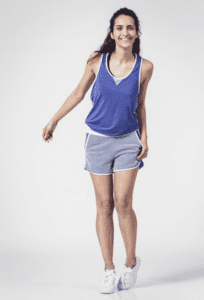 Thanks to my friend @ohmybidou for this savage shoot, totally improvised !